About Sara
"Because being a parent is never easy, especially on your own."
I have been doing the single mom thing for over 18 years.
My son arrived when I was a 23 year old college student. His father was not interested in parenting, so my son and I on were our own. It was not easy! I was scared, lonely, a bit humiliated, embarrassed, and poor. Even though I worked 48 hours a week as an assistant manager at a local restaurant, I qualified for Medicaid. In fact, I was the first person to walk into the new Medicaid Healthy Start Prenatal Clinic at the local hospital.
I finished my degree, but put my dreams of a big Public Relations career on the shelf, to take a daycare friendly position that just paid the bills.
When my son was five years old I married someone who seemed to be the man of my dreams! We added two daughters to our family before our two year wedding anniversary, and my husband launched his own business. Unfortunately, his profits were nill, and my income was not enough to meet our needs. When faced with deciding between the business and the family, the business won.
On my own again, this time with three kids in tow, I was scared to death but determined to move forward. Did I mention that in the middle of all this my son's father showed up with his wife and four children! In a period of two years my son went from having no siblings to having six of them!
It has certainly been a wild ride, and very few minutes have been anything like my young girl visions of a fairy tale life. My children and I have not only persevered, we have succeeded. A year after my divorce we left our small family apartment and moved into our newly built four bedroom home. I earned a Master's Degree, while keeping everyone clothed, fed, and on track. My 20+ year career in the disabilities field has taken me from mom on Medicaid to a professional woman making Medicaid policy decisions for my entire state! I have even recovered from nine periods of unemployment...all experienced as a single mom!
It is through adversity that we grow, and like you, I often feel as though I must be about 20 feet tall by now!!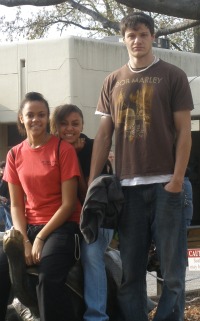 My children are fabulous individuals who are polite...at least in public, empathetic, critical thinkers, and happy. I could not be more proud of them!
If we fail as parents, we succeed at nothing.
~Jackie Kennedy Onassis
As a single parent you have much to accomplish. I know your pain, I know your challenges, and I know how to help. You are not alone.
My Site
While the information on this site is universal, and applicable to any parent regardless of gender or marital status, it is written specifically for single moms. There are over 11 million of us out there and we are raising a lot of children.
It Takes a Village to Raise a Child

~African Proverb
We are all here to learn from, and support each other. No man is an island, and neither is any single mom.
Our futures, and the futures of our children, in fact our society as a whole, depend on us our success, and we will succeed!
Here's to your incredible success!! Remember...you are strong, you are capable, and you are fabulous!!
---