Balance Up! Page 3
Day 12...recording the details
I...am a big picture person. I understand details. I respect details, and when possible, I defer details. I would truly rather be at the dentist than wade through number details. (No offense Dr. Tony.)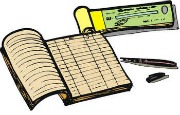 Given this, you can probably imagine how quickly my eyes glazed over when today's video started talking about making a separate ledger for items like eating out and car stuff. My first thought was, "How can I get around this?"
I know. That was bad. We don't eat out. It's not a challenge to manage our once a month pizza, so that's one less sheet for me. My focus is paying off debt and I am not buying a thing that isn't a necessity. When I do, I take that off the extra I am putting onto the debt. Maybe I don't need these. I wondered, "Can I get to where I want to go without doing this part?"
I haven't yet.
Bryan says this will take some getting used to, and to play around with it for a while. OK. I printed out my ledgers, and I'll give it a try. Cross your fingers for me!
---
Day 13--What if you can't pay all your monthly expenses?
Hello Balance UP! watchers. I am once again behind in my classes. I lost a dear friend, I took a mini-vacation, and I have been blessed with some over-time at the office. Fortunately, the Balance UP! program is so easy to follow that if life happens (and it does), you can jump back into the program at your first opportunity.
Last week was my bill paying week. By following Bryan's directions, I was able to find the funds to pay cash for my that little vacation, and I was put an extra $100 down on that stupid IRS bill. I am actually looking forward to this month's bill paying to see how much extra money I can find. Yes...you heard that right...
"I am actually looking forward to this month's bill paying."
I can't believe I said that. If you recall...this is the time of the month that I generally wake up around 3am in a panic even if I have the money to pay the bills!
Not quite there yet? Then Day 13 is the day for you!
When we can't pay those monthly expenses we feel ashamed. When we feel ashamed we pull back. We isolate ourselves. We are sure everyone knows. The reality is, no one knows, and there's the rub.
"No man is an island."
Bryan reminds us to reach out. If you need something, ask. Maybe your washing machine died, or the tires are about ready to fall off the car. Someone, somewhere, has a washing machine in their garage, or some gently used tires looking for a home. If you don't ask, these items can't find you.
Bryan also offers some great tips to prioritize your bill paying when you don't have enough money to go around, along with some very sound advice for interacting with creditors. You can use his sample letters to explain your situation, and you can send along his budget sheet to illustrate that you are honestly in a bit of a pickle. There is nothing worse than endless creditor phone calls when you are already over-stressed about your finances.

What are you waiting for?
---
Day 14...Managing your minutes

Does a lack of time management cost you money?
Do you pay late fees because you missed payment due dates? Do you sometimes eat out because you didn't make it to the grocery store? Do you wait until your car breaks down to fix it because you didn't have time to do regular maintenance?
Growing up, my dad paid the bills while my mom made dinner, cleaned, etc. Now, my mom pays the bills while my dad makes dinner, does the dishes, etc. When you are a single mom (or dad), you are paying the bills, making dinner, cleaning, helping with homework, driving kids around, etc. Time management under these conditions gets trickier, and when you factor in plain old exhaustion... well let's just say I have paid my share of late payments because I ran out of minutes in my month.
With demands such as these on our time we find we are often...
"Doing what we've always done, and adding more to it."
Who hasn't been there? I know I can relate! I certainly don't make a conscious decision to function this way, but when I look back, this certainly seems to be what has happened. I recognize my ADD does nothing to help the situation, but I would really like to get to stop running this hamster wheel, so I'm ready to do better!
Wanna do Balance UP! for free? Leave a money saving tip here, and you'll be entered into a drawing to do just that! Balance UP!
---
Day 15...More time management

Who doesn't long for more time? I know I find that I am often working from the time I get out of bed until I collapse back into bed at the end of the day. There is just so much to do!
For a Type A single mom with ADD, time management is a constant challenge. The reality is, there are more to-dos on my list than there are minutes in my day. It is a fact. I used to feel bad about it. I used think that I was failing at this time management thing and that I needed to work harder to get it down. Then a funny thing happened. I noticed that married people who help each other struggled to get everything done too. If the two of them can't do...and often with fewer children than I have...was I expecting too much of myself?
The answer is simply "yes". My first adjustment was to say to myself,
"Self, you are not going to accomplish everything, everyday that you want to accomplish."
Once I made piece with that life got a little easier.
Bryan offers some great time management tips. I suggest you pick 2 to get yourself started. Once you have the incorporated these 2, you can add 2 more. Here are some of Bryan's suggestions:
1. Get started. (Good idea!)

2. Handle a task once. Don't move it from to-do list, to to-do list.

3. Schedule 6.5 hours of work for an 8 hour day. This gives you wiggle room but still lets you complete your list.

4. Get off all the email lists for the emails you just delete anyway.

5. Eat well and be well-rested. (Do your best)

6. Say "No"

Number 6 is my favorite. My next newsletter will have a link to order The Book of No. Saying no to everyone else's demands is a powerful tool in maintaining your own sanity and living the life you'd like to live versus the life everyone else would like you to live. Namely, doing what makes them happy, without any regard to the toll it takes on your life, your health, your relationships, or your responsibilities.
Pick a few priorities for your day...things that have to be done, and work from there. Anything else you get done is a bonus. Above all, make sure you have time to talk to your kids, hug and squeeze them, and learn about their day. You don't want to be on your deathbed thinking "I made it to every PTA meeting like all the adults at the school wanted, but I didn't read books or play games like my kids wanted." Or, "I wish I had gotten around to planning my financial future. I have nothing to leave my kids."
You are sometimes going to go to bed with a sink full of dirty dishes. There are more important things. Spend your time on those.
---
Day 16 Are You a Ms. Later?

My son's favorite word was "later". He did not feel he had a grand need to do very many things in a timely manner. If you have this problem, Bryan is here to help. Today's Balance UP! is all about procrastination. Bryan does a great job of exploring all the reasons we procrastinate, and what we can do to improve.
Take a moment here. Do you procrastinate? Of course you do. Why? When? Does procrastination come to visit often, or are visits circumstantial? Bryan gives us some reasons that we may be visited by Ms. Later:

1. Perfectionism. We want to wait until we can be perfect, so we do nothing.

2. Indecision. We don't know which thing to do, so we do nothing.

3. We only want to do what is fun.

4. We don't feel well. Isn't it a stuggle to get your stuff done when you are too tired or sick to move?

5. We confuse activity with accomplishment. This is huge! How many times have you worked your tail off, but done nothing that really needed to be done?

How is procrastination negatively impacting your life? Pause here. What do you want to do with your life? How would you like your life to be? Think about how you would like day each to feel? So what is in the way?

Let us get back to money. How does your money feel? Money feels? You are probably thinking, Sara, that makes no sense. Humor me here. If you were the money in your life, how would you feel? Would you feel like "Hey, I am happy! I am doing great things, I am multiplying, I am paying Sara's bills, I am empowering her to live her desired life. I am awesome!"

Or...
Are you cowering in the corner afraid to come into the light? Do you think, "Oh my gosh! She is coming! She is reaching in to pull some of us out. I hope she doesn't take all of us! But what if she has to take all of us, because we are not worth much? No one will be left!"
This analogy immediately cleared so much up for me. You have to address Ms. Later to empower your money work for you!

So what do you do? In Balance UP! Bryan offers many positive, doable solutions so you can banish Ms. Later forever!

---
Day 17--Are you living on the edge?

Having been unemployed a multitude of times, I have certainly had my fair share of edge-walking. Bryan reminds us that one unexpected event can cause a financial disaster. I can personally verify that this is true!
OK, so what do we do?
Bryan recommends that we have an emergency fund of $1500, and that we stop paying for emergencies with our credit cards. Now I have the emergency fund...but I am afraid to spend it, so I am more inclined to use the credit card. Hmmm...I guess that's not right...
So when do you use the emergency fund? Bryan says that you should define what an emergency is before one arrives. Great advice! And if you are in a relationship, you both need to create this definition of emergency together. Now here's the trick. You have to stick to your definition. Really, really wanting a pizza is not an emergency.
Short the $1500? Not a problem. Bryan has some great ideas to get your fund started.
~Sell some things you aren't using.

~Eliminate one or 2 items that you have in your budget for a few months.

~Go on a clothing or restaurant fast for a few months.

~Spend less in general.

~Pick up some extra work...but only for a short time.


Where should you put your new cash? Consider a savings account, or a money market for a higher interest rate. Will your employer make automatic savings account deposits directly from your paycheck? Those deposit add up quickly.
Once you have some emergency cash you can breathe a little easier, and step back from the edge. It is a very good feeling!
---
Day 18...the four letter "D" word

No...it's not "damn", it's "debt". Quite frankly I'd rather hear damn 100 times over.
Today Bryan asks the million dollar question:
How would you feel if you didn't have any debt?
Let that sink in a bit. If you had NO debt. I tell you what, I'd be working a few hours a week and focusing my time on my kids and my passions. Debt locks us into jobs we don't like, limits our vacations, and keeps us up at night. Think about how much good you could do in the world with your money if you weren't paying MasterCard or some other interest spouting monster. I am recommitting to being free of those ties!
OK. So how?
Bryan gives some great tips:

~Pay cash. We spend 12-18% less when we use cash than when we use credit.(Dun and Bradstreet)

~Don't co-sign for anyone. Even if they are making payments this loan appears on your credit report. If they don't pay, you'll have to do it.

~Don't use Pay Day Loans. I cannot stress this enough. I have seen people bury themselves fast with these.

~Don't rent to own. I have had neighbors who have the same set of furniture in and out of their houses 10 times. Buy something used and save for the good stuff.

~Skip the 90 days same as cash. Seventy-five percent of these loans turn into monthly payments with interest.
The faster you want to get out of debt, the greater you will need to sacrifice.
Ugly, but oh so true!
---
Page 1--Days 1-6
Page 2--Days 7-11

Page 4--Days 19-24
Page 5--Days 25-29