Live the Beatitudes!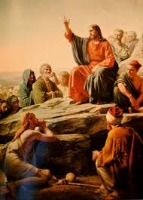 "Blessed are the..."


One way to connect with God is to live the Beatitudes. The Beatitudes come from Jesus' Sermon on the Mount, and the word means happy or blessed. In the Bible, the books of Luke and Matthew both list the Beatitudes, but each version is a little different. Scholars debate whether this reflective of two different versions of the same speech, or two different speeches. Either way, it's great stuff!
Let me share

Matthew's Beatitudes (5:3-12)

with you here:
Blessed are the poor in spirit, for theirs is the kingdom of heaven.
Blessed are those who mourn, for they will be comforted.
Blessed are the meek, for they will inherit the earth.
Blessed are those who hunger and thirst for righteousness, for they will be filled.
Blessed are the merciful, for they will be shown mercy.
Blessed are the pure in heart, for they will see God.
Blessed are the peacemakers, for they will be called sons of God.
Blessed are those who are persecuted because of righteousness, for theirs is the kingdom of heaven. 
Blessed are you when people insult you, persecute you and falsely say all kinds of evil against you because of me. Rejoice and be glad, because great is your reward in heaven, for in the same way they persecuted the prophets who were before you.
Pure inspiration! Here God is telling us not to feel inadequate because we mourn, because we find our spirits to be weak, because we encounter injustices, because we feel insufficient, because we strive to be kind, merciful, focused on peace and doing what is right, yet we still get thumped…Heaven was made especially for us! God realizes our pain, frustration, and suffering. He has blessed us specifically because we are dealing with a lot of crap! My friend Alex says, "This planet is a tough act!" God knows, and He is raining down his blessing just because of it!
So just how do we LIVE the Beatitudes? I am so glad you asked!
Step 1:
The first step to living the Beatitudes is to realize that we are not failing because we feel weak, we are receiving abundant blessing because we feel this weak. Hold your high, and know that God is holding you in the palm of his hand specifically because of your challenges. To live the Beatitudes is to rest in the comfort of God. 
Step 2: 
God is a God of action. He gives to us, and He expects us to give to others. We cannot sit in our living room recliner comforted in the knowledge that God has pity on our struggles and misfortunes and stop right there. We are called to grow God's goodness in the world.
Mother Theresa's guide to Living the Beatitudes:
People are often unreasonable, irrational, and self-centered. Forgive them anyway.

If you are kind, people may accuse you of selfish, ulterior motives. Be kind anyway.

If you are successful, you will win some unfaithful friends and some genuine enemies. Succeed anyway. 

If you are honest and sincere people may deceive you. Be honest and sincere anyway. 

What you spend years creating, others could destroy overnight. Create anyway.

If you find serenity and happiness, some may be jealous. Be happy anyway. 

The good you do today, will often be forgotten. Do good anyway. 

Give the best you have, and it will never be enough. Give your best anyway.

In the final analysis, it is between you and God. It was never between you and them anyway.
I used to have this list taped to my office wall and I must have read it 20 times a day! This Beatitude To Do List is no easy list to master…but reading the list reminded me that we all experience obstacles on our life path, and we all have the ability and requirement to keep going, and to honor God anyway. 
Step 3:
It's time to get started!
The Corporal and Spiritual Works of Mercy provide a live the Beatitudes based blueprint:
The Corporal Works of Mercy
1. Feed the Hungry
2. Give drink to the thirsty
3. Clothe the naked
4. Shelter the homeless
5. Comfort the imprisoned
6. Visit the sick
7. Bury the dead

The Spiritual Works of Mercy
1. Admonish sinners
2. Instruct the uninformed
3. Counsel the doubtful
4. Comfort the sorrowful
5. Be patient with those in error
6. Forgive offenses
7. Pray for the living and the dead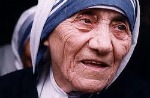 If you can't feed 100 people, feed one. 
~Mother Teresa
Don't be overwhelmed by these lists. Life is hard and it is busy. You are working, raising kids as a single mom, and there isn't a lot of extra time. Just be on the alert for a few ideas, every now and again, to fit into your life without making big sacrifices. You can certainly work to forgive and to increase patience with those who are wrong, you can pray for the living and the dead, comfort friends who are hurting, donate the clothes your kids outgrow...you get the idea.
In fact, perhaps our biggest challenge is to execute the Works of Mercy at home. Are you patient with your children? Do you comfort them in sorrow? Have you forgiven you Ex? (This one is hard…) Do you teach your children to pray, and do you pray for them? Do you feed them appropriately? You get the idea. 
Love begins by taking care of the closest ones - the ones at home.~Mother Teresa
Live the Beatitudes and the Works of Mercy and you will travel a clear roadmap on your journey to Connect with God. I read that Ghandi was a fan of the Beatitudes, and spent much time studying them. They are applicable to anyone on a spiritual journey. You can live the Beatitudes, and you will live more joyously because you do! Happy Travels!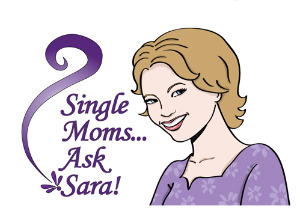 Live the Beatitudes for a firmer connection with God. Click here for more ideas.