Sara Sherman's Free Downloads
Let single mom expert Sara Sherman's free downloads help you to make the most of your day, maximize your time, stretch your dollars, and keep your kids healthy and safe.

Menu Maker
Use Sara's Menu Maker to plan healthy, balanced meals. You will always have an answer for the "What's for dinner?" question.
It's time hit the grocery store! Don't you hate it when you spend a ton of money and end up with nothing to eat? No more! Populate your grocery stopping list with the items from your Menu Maker and never have to worry about having what you need for dinner again.
Choosing a daycare provider can be a stressful and overwhelming process. What questions should you ask? How can you choose? Sara's Day Care Interview Guide can help you ask the questions to help you get the best answers.
11 Strategies for a More Fabulous Life
Being a single mom can be overwhelming. It can be easy to lose your focus and forget what is really important. Sara's 11 Strategies for a More Fabulous Life provides simple tips that you can employ each day to stay grounded and focused so you can enjoy each and every day.
Do you hit the drive-thru because you're pressed for time? These fast recipes are tasty, inexpensive, and super fast! Bon Appetit!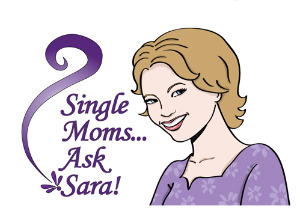 Leave Downloads and return Home.

---