Find Babysitting

What to look for: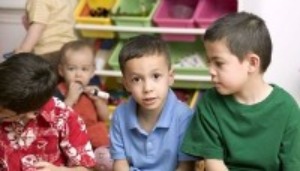 "It's time to find babysitting services" are words that can send panic through your system and make you feel completely overwhelmed.
"What do I do?"
"Where do I look?"
"How do I find someone good?"
"What if my child doesn't like the sitter?"
These are all very legitimate questions!
So, where do you start?
You start with your Parent with Purpose list. Why, you ask? It's simple. If you work full-time your child will be with your babysitter for at least 9 hours a day. That is over 1/3 of their day, which is a big chunk of time. While your babysitter's values don't need to match all your parenting values, they should not overtly conflict with them either.
For example:
I am certain you want your children to be healthy. If your daycare environment does not promote handwashing, if the people in the environment smoke around your children, if no fruits and vegetables are served, etc., then for at least 9 hours a day your children are not going to be living what you consider healthy life. To make matters worse, for 9 hours each day your child is being programmed with messages that are in direct conflict with your values. How successful are you going to be when you try to teach them handwashing, smoking is bad, and fruits and veggies are important? It is certainly not going to be easy for you, or your child!
An environment like this is simply not suitable for your child. You want to be find babysitting providers who have values more in line with the values you have for your children.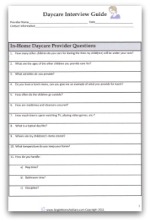 Sara's Interview Guide
Being prepared is a must, and to help you along I have created a series of interview questions for you to download. These questions are divided into 3 sections:

1. Questions to ask in-home babysitters
2. Questions to ask facility based providers
3. Questions to ask references

And by all means...please ask for references! If possible, drive by the houses of those references just to be sure you have the most comprehensive information. Finding babysitters is a tough job, and the consequences for picking the wrong one can be high. Do your homework.
Print out and look over my questions before you meet with potential daycare providers. Jot down any additional questions you might have, and add anything that may be specific to your child. Give some thought to the answers you would like to see before you begin to find babysitters. Being prepared for the interview will help you feel more in control and less panicky.

Where to Look
Beginning the daycare search can seem overwhelming because their are so many places you can look. Instead of feeling overwhelmed, try to look at this is as a positive. With so many places to find babysitting, it's just a matter of time before you find the perfect spot for your child.
Here are some good resources:
Newspaper Ads
Word of Mouth
Yellow Pages
Neighborhood houses (Drive around your neighborhood and see where kids are getting dropped off in the morning and picked up in the evening)
Relatives
Community Referral Sources
Online Referral Sources such as Daycare Match, Care.com, Metro Day Care, Daycare.com.

When to Move On
Sometimes you think you find babysitting that is wonderful...but then you discover...they aren't. That example above? The smoking, no veggies and no concern for hand washing? That was no example. Unfortunately, it really happened.


While the provider promised great meals, she and I had a very different idea of exactly what "great meals" meant. Fruits and veggies? "I'm not Bob Evans" was her answer. (Seriously, that's exactly what she said.) Did the babysitter smoke? She said "no". And she really didn't; but everyone else who stopped by did, and I happened to discover this when I stopped by! That sitter told me she had no control over the actions of the people who visited her home, and those smokers visited her home nearly everyday. She was unwilling to change, so I did.
It is frustrating, and it can be scary to plunge back into the daycare hunt. Sometimes we even keep our kids in a less than ideal situation for way to long just to avoid the work of finding a new babysitter. Even though it is a pain to go through the daycare hunt process, sometimes we have too.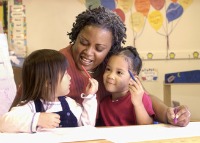 You are responsible for your children no matter where you are, or where they are. You need to take the appropriate measures to be sure they are safe and happy, and that you are pleased with the care they are receiving while you are working. There are wonderful babysitters in the world. If you do not have one, keep looking. Both you are your children deserve an environment that is in line with your priorities, is safe, educational, and healthy. If you look with purpose, and adjust as needed, you will find babysitting services that make everyone happy.