February 2011, Volume 1 Issue 1
Table of Contents
What's New
Valentine's Day
Love the Cake
Fun for the Kids
Rockin' Recommendations!
---
Welcome the the SMAS Ezine!
What's New?
Single Moms Ask Sara is back! To refresh your memory...a little over a year and half ago, SMAS was a simple page on the web...then 3 pages...and now...over 40 pages and counting! Amazing! I have even upgraded my newsletter to the far more modern Ezine. Say, "oooooooooo...". lol!

The one thing that hasn't changed is my commitment to providing you with fabulous information. If you haven't been there lately, stop by Single Moms Ask Sara and check things out!

While you're surfing, but sure to stop by another great site: Fun Frugal Mom Survival Tips. I was recently invited to be a guest writer for this site. It is LOADED with fabulous info...and it is owned by a single mom!

If you like my ezine please pass it along to your friends, and don't forget to follow me on Facebook and Twitter.

Have a fabulous February!



Valentine's Day!
Love is in the air! Ok, for most of the country snow is the air...but maybe with enough love we can melt it all! As you celebrate all the romance, don't forget to show your most important Valentine's you love them! Your kids! We all know it's the little things that count, so do a little something for the kidlets.

Our Valentine's Day tradition is to start our day with yummy heart shaped waffles, topped with cherry pie filling, whipped cream and Valentine's sprinkles, washed down with a big glass of strawberry milk! Delicious! Keep the theme going by making dinner as red and pink as you can. Jello, pudding, spaghetti, peppermint ice cream, etc. It's a fun way to spread the love!
Love the Cake!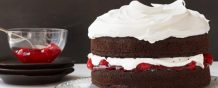 Check out this fabulous cake from the wonderful people at Duncan Hines!
Recipe
•1 pkg Duncan Hines® Moist Deluxe® Dark Chocolate Fudge Cake Mix
•2 1/2 cups whipping cream (or sub whipped topping)
•2 1/2 tbsp confectioners' sugar
•1 can (21 ounces) Comstock® or Wilderness® Cherry Pie Filling

1.Preheat oven to 375ºF. Grease and flour two 8-inch round cake pans.

2.Prepare, bake and cool cake according to package directions.

3.Beat whipping cream in a large bowl until soft peaks form. Add sugar gradually.

4.To assemble, place one cake layer on serving plate. Spread two-thirds cherry pie filling on cake to within 1/2-inch of edge. Spread 1.5 cups whipped cream mixture over cherry pie filling. Top with second cake layer. Frost sides and top with remaining whipped cream mixture. Spread remaining cherry pie filling on top to within 1-inch of edge. Refrigerate until ready to serve.
For a twist, try layering the ingredients in a trifle dish. Beautiful and fast!
Fun for the Kids
Put your house on the map! The Audubon Society is gearing up for its Great Backyard Bird Count (GBBC) and you can help! Any time through Feb. 18-21 take 15 minutes out of your busy day, look outside, and count the birds. It's fun, it's educational, and it's a great community service. Do it once or several times, look out your window or go to the park. Enter your info on the website and find the red dot that is your house on the GBBC map!
Rockin' Recommendations
This time I have two for you!
Victoria Secret is offering free Godiva chocolate with any $75 purchase. Whether you are buying something to treat that special someone, or just replacing bras and panties scoop up your free Godiva!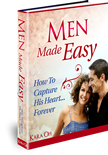 Kara Oh has been studying men for years,and God love her for that! She has a a number of books...all intended to make your life with men easier! Men Made Easy How to Capture His Heart...Forever seemed an appropriate choice for Valentine's Day!