April 2011, Volume 1 Issue 3
Table of Contents
Super Spring
Breakfast Bake
Easter
Fun for the Kids

---
Super Spring!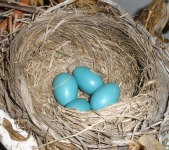 Can you believe Spring is here? As I write this at the end of April...nearly one month after the official start of Spring, I actually had to turn up the heat because my dog was shivering from the cold!

Fortunately, Mother Nature is marching right along, behaving as though Spring will actually be stopping by to visit. My lilacs are almost in full flower, and some robins have nested in a pot on my porch. Whenever I doubt Spring's arrival I step outside and marvel at the beautiful blue eggs that remind me the world is busy creating new life.
Breakfast Bake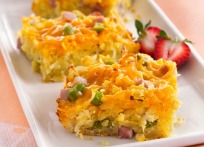 This make ahead dish from Betty Crocker is a fast yummy breakfast with minimal effort. Great for Easter Sunday guests...or any day you want a yummy delicious breakfast with minimal effort.




Ingredients
1 cup diced fully cooked ham (6 oz)
2 boxes Betty Crocker® Seasoned Skillets® hash brown potatoes
1 medium green bell pepper, chopped (1 cup)
1 tablespoon dried chopped onion
2 cups shredded Cheddar cheese (8 oz)
1 cup Original Bisquick® mix
3 cups milk
1/2 teaspoon pepper
4 eggs


In a greased 9x13 pan, layer ham, potatoes, bell pepper, onion and 1 cup of the cheese in baking dish. In large bowl, stir Bisquick mix, milk, pepper and eggs until blended. Pour into baking dish; sprinkle with remaining 1 cup cheese. Cover; refrigerate at least 4 hours but no longer than 24 hours. Heat oven to 375ºF. Bake uncovered 30 to 35 minutes or until light golden brown around edges and cheese is melted. Let stand 10 minutes.
Easter Joy

Easter has such a universal message. Everyone can relate to the events of Holy Week. Who hasn't felt on top of the world and adored by everyone around them only to be dashed, mocked, and humiliated a short time later? When this happens I hang on, knowing that like Jesus, God will lift me through my troubles to a resurrection of my own.

God does the same for you. When you are feeling lost, pray. Do you have a prayer that provides you with great comfort or inspiration? Please stop by and share your prayer. You just never know who your prayer may help!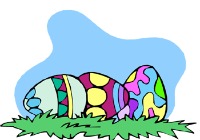 Fun for the Kids
Check out these Easter activities! Decorate some fabulous Easter eggs! Make fun Easter cards and crafts.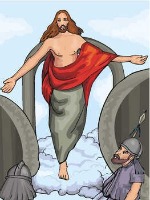 Don't forget that Jesus is the reason for the season.

Get great ideas to keep the focus on Jesus in your celebration.




Pass it on!
If you enjoy this newsletter, please pass it on to your friends.

If you are receiving this newsletter from a friend, you can go here to sign up to receive your copy right in your own mailbox.


Happy Spring!