Parent with Purpose!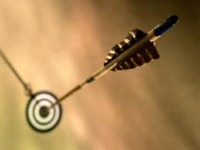 Begin with the end in mind.
~Dr. Steven Covey
You can best reach your parenting goals if you parent with purpose. Kids are tricky. As long as you give them a little food, they will continue to get older, and the will continue to get taller. They keep moving from grade to grade. By doing this, kids give the appearance that they are being raised…when really they are just getting older, taller, and moving from grade to grade.
To raise your children is to prepare them for adulthood. I think there is no finer, or more demanding calling. Why? Because when a child isn't raised with purpose, big problems can follow! Napoleon was well educated, but I am guessing he wasn't well raised. On the other hand, George Washington was well raised. Washington's parents chose to parent with purpose.
I am a firm believer that if you do not actively decide what you want for your children, when they reach adulthood, they will not be prepared.
Active child rearing is no easy task. You are busy! You are a hard working single mom. It is nearly all you can do to work enough to meet the financial demands of your parenting responsibilities. You rush around getting lunches, laundry, chauffeuring, cleaning, etc. Time passes...and all of a sudden your kids are on the threshold of adulthood, and you are left to wonder where the time has gone! It happens!
This is why it is so very, very important to parent with purpose. Take the time to define what you want for your children. Not only will you fail to succeed in reaching your goals if you fail to define those goals, but you will reach something that you do not want to reach.
No one ever says, "I want my kids to be morbidly obese and at high risk for diabetes, made fun of on the playground, and the last pick for kickball." BUT…when your child refuses to eat vegetables, watches TV for hours on end, and munches on junk everyday…that is exactly what you could have.

So what do you do?
---
Purpose Statement
The best way to parent with purpose is to actively identify that purpose. Sit down and consciously think about where and how you want your children to be when they are no longer children. To begin with end in mind is to consider "the look back". If your child were to sit on Oprah's couch as an adult, what would they say about their childhood as they "look back"?
In the Seven Habits of Highly Effective People, author Steven Covey tells us to write our own obituary. This is an amazing exercise! What do you want people to say about you at your funeral? Based on the way you are living today, would they say what you want them to say? Based on the way you parent today, would your children say what you want them to say?
Your purpose statement does not have to be, and I would argue should not be a trendy statement like "My kids will grow up in an environment of love, and learn to be a positive influence in the world." Don't get me wrong, this is a great statement. I certainly want this for my children. However, when they are upset because I think it is time to turn off the TV and go to bed, there is nothing in this statement to get me through that moment.
I have a running list of what I want for my kids. It is nothing fancy. I have added to it as my kids have gotten older…and new challenges have cropped up. Let me share a few of my parent with purpose goals here.
My Kids Will:
Know they are loved.
Be healthy.
Know God.
Be smart.
Feel safe.
Learn critical thinking skills.
Respect others.
Be responsible.
Learn life skills.
You get the idea. Now that I have defined where I want to land, I can use my list to support me in making daily decisions. Single moms don't have anyone to discuss daily childrearing with, and they don't have any back up. If my mom felt like she wasn't getting anywhere with us, she would say, "Wait 'til your dad gets home!" That is not a luxury you or I have. We have got to be strong in the moment, whenever that moment occurs.
If your child does not want to turn off the TV and do homework, you have two options. You can leave the TV on and ignore the situation, or you can enforce the rules. You are tired, and this is going to be a fight. What do you do?
Let's go back to my list. As I parent with purpose, I listed that I wanted my kids to be smart, responsible, and learn life skills. If I don't take up the sword so to speak, and assure the TV is off and the homework is done, I am actually moving away from what I wanted to accomplish, not towards it.
Worse yet, I have done a disservice to my children because I did not move them closer to being prepared for adulthood when I had the chance. Because doing a disservice to my children and moving away from my goals for them is not acceptable, I dig in, fight the good fight, and assure things are getting done as needed. To parent with purpose takes resolve, courage, and stamina. It is hard, but if you keep a firm focus on where you want to end...you will succeed!
---
Are you single and wondering if adopting a child from another country is a good option for you? Visit International Adoption Facts and Information for excellent information on the international adoption process, as well as specific information on adopting as a single person.


---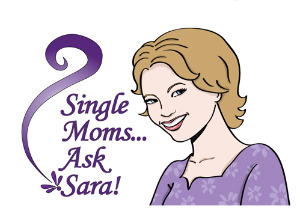 Have a question about how to Parent with Purpose? Click here to ask Sara!


---