50 Teen Conversation Starters
Do you ever say...
My teen won't talk to me?
I miss when my teen was little. We were so close.
How can I get my teenager to open up?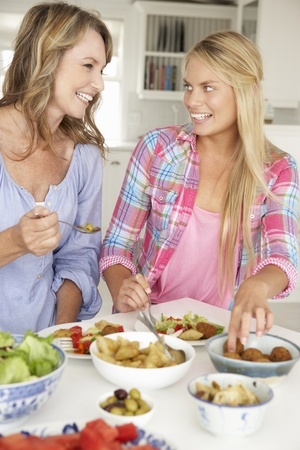 You're not alone! Every parent knows it can be quite a challenge to break through the outer shell of a teenager and get to their soft, conversational middle. Unfortunately, if you can't connect, you can't effectively parent. 
I had the same problem. I felt like my kids were in their own little worlds, and I was missing out. I also worried that they might get into some serious trouble in that little world and I wouldn't even know it... until it was too late. 
I had to get creative and think of conversation topics that would break the ice and get my kids to open up. You know, stuff that would appeal to the teenage mind. 
It worked!
Once I got my kids to open up, and start talking, I could take the conversation anywhere I wanted (or needed) it to go. After awhile, talking to me just became a habit for them and I didn't have to work so hard to get the ball rolling.
Sound good?
If you have teens, it is likely that you are struggling with the same topic. I can help. I have put together a list of 50 Teen Conversation Starters to help you get the ball rolling. Not only have I used these to interact with my teens, I had my kids read over the list and gave me their official seal of approval!
Enter your name and email below and I'll immediately send you your list of 50 teen-tested conversation starters... totally free!