Have you thought lately, "Can I even do this?"
Do you wonder, "What if I'm not enough?"
Are you tired of feeling tired and frustrated?
With over 20 years as a single mom under her belt, it's easy to see why Sara Sherman has come to be known as The Single Mom Mentor. Sara was busy raising her kids, building her career, and volunteering in her community when she began to notice message after message slamming single moms and their children.  Infuriated by this messaging Sara decided to tell "the other side of the story," and to become a support for single moms who were working their tails off raising nearly half of the children in the United States.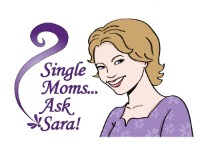 With her knack for making the complex simple, Sara provides single moms who are tired of feeling tired and overwhelmed with down-to-earth advice and programs that are practical, and easy to implement. Giving them the freedom and power to take control of their lives, their family, and their future, all while loving their single mom journey.
Single Moms who work with Sara...

Stop second guessing themselves and confidently direct their lives.

Turn their families into productive peaceful teams, and raise self-sufficient kids.

Purposefully manage their households with ease, efficiency, and time to spare.

Set the pace of their lives, set their priorities, and live those priorities.

Move from lives of frustration, overwhelm, and stress, to lives of purpose, joy, and peace.
Sara's Stuff is for you if you...

Are looking for new tools for your Single Mom Toolbox.

Value parenting and know you have one shot at producing great kids.

Understand to change your life, you must do things differently.

Believe living a single mom life full of peace and order, with happy, well-rounded, responsible kids is absolutely possible!
Don't forget to sign up for your FREE weekly: