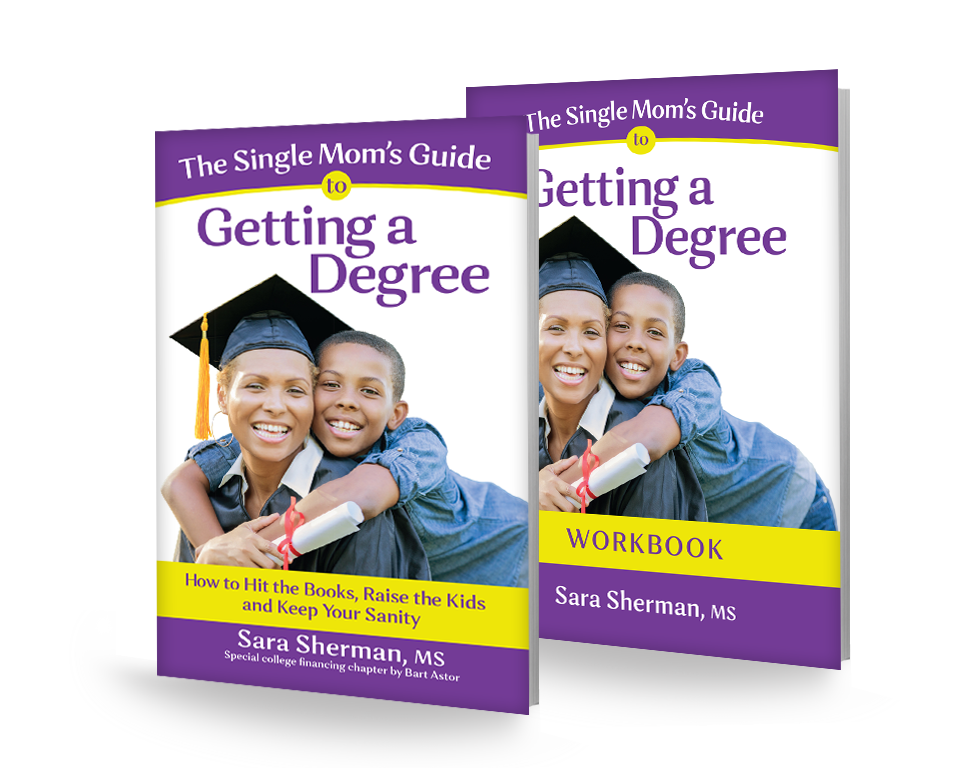 The question I am most often asked is:

"How exactly did you go to school as a working single mom?"

Pregnant with my first child, I was a single, full-time college student and I worked full-time.
Often 2 and 3 jobs at once.
It would have been soooo much easier at that time to drop out of school and just focus on work and being pregnant.
Problem was ... even though I changed jobs about five times when I was pregnant, my highest wage, working as an assistant manager of a restaurant, was $4.25/hour.
I knew without a degree, my future was not going to get any brighter.
It was the same when I enrolled in grad school years later.
My boss wanted to create a new position, but certification for the position required a Master's degree. Getting my Bachelor's degree was a challenge as a single mom working full-time with one child in tow, how could I do this with three busy kids and my volunteer work?
In order to be a successful mom, student, and employee, I had to create and implement a Single Mom Master Plan that met the needs of all my roles and responsibilities, and support me to parent, without missing a beat!
Let me share that plan with you!
In The Single Mom's Guide to Getting a Degree, you will learn:
How to discover the degree path that fills you with passion (I call it your Delicious Desires Summary™). It's so much easier to stick with your studies when you LOVE them, right!?  [

p. 20]

How to find and maximize all available tuition funding sources to make coughing up that cash much more manageable.  [p. 59]
The myths … and realities of getting a degree while working full-time and single momming. (It can indeed be done!) [p. 39]
Which college program best meets your needs. (It's out there … I promise!)  [p. 33]
Tricks for staying motivated and on your game. (Getting a degree is a marathon, not a sprint.) [p. 39]
With a little planning, you can manage all the moving parts of school, work, and kids. (And you'll read the stories of other moms who are making it work.) [p. 69]
To create space in your life for school by streamlining. (It's all doable with your Single Mom Master Schedule™.) [p.127]
and so much more!
Plus...
To make it all super simple for you, I've created a step-by-step workbook so you can easily walk through the entire process, keep all your information in the same place, and feel completely confident that you have every detail completed covered! 

Bulk order discounts are available!