Dress Your Best!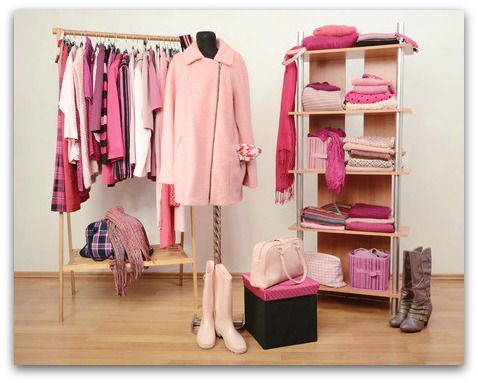 "Just around the corner in every woman's mind - is a lovely dress, a wonderful suit, or entire costume which will make an enchanting new creature of her." 
~Wilhela Cushman
I don't have anything to wear!!
 Who hasn't said that? It can be darn hard for single moms to dress your best! We are busy, and we are tired.
Moms tend to put themselves last, and for single moms…well, we often don't even have ourselves on the list! How many times have you seen adorable kids with the cutest looking outfits and an exhausted mom who looks like she is wearing the clothes she slept in…for the past last week! It happens and we don't like it, but we don't always know exactly what to do about it.
I will tell you to move yourself up on your list and you will likely laugh at me. Fair enough. If you gave me this advice, there was a time when I would have laughed at you too.
When you are exhausted, struggling to cover the basics, and short on cash, it can easily feel like there is no way you are ever going to have an opportunity to focus on yourself, or maybe you only get to do this in rare and sporadic free moments. Maybe you have a free afternoon so you run to the store hoping to pick up everything you need for the season. I used to do this a lot!
I would need three days of clothing for a work conference, and that would be all I got for that entire season…three days of new clothing, on sale, all from the same store. Not exactly the way for a single mom to dress your best.
Problem is, you get to the store and can't find anything that fits! I don't know how many times I have walked out of a clothing store practically ready to slit my wrists because I could not fit into anything I saw! You just feel so dejected! It is very easy to feel like something is wrong with you!
Good news! There is nothing wrong with you at all! Seriously. I don't care what size you are…there are clothes out there for you!
7 ways a single mom can dress her best:
1. Disregard size. Purchase clothes that fit you well. Unless you are going to wear your tags on the outside, no one will know what size you are. If they ask…tell them you don't remember. I KNOW this is hard. Practice.
2. Watch TLC's What Not to Wear (Look for Re-runs and YouTube Vids). This show has been so instrumental in teaching women what looks good on their bodies…whatever their body type. You will be amazed at the before and after pictures of these women.
Learning what cut and fabric to purchase will make you look fabulous, and thinner than when you wear the giant clothes you try to hide in. You will realize it is the clothing that is wrong for you…instead of thinking that you are wrong.
If you need more direction, check out Clinton Kelly and Stacy London's book Dress Your Best. This has every body type, and suggestions for what to wear to work, on the weekend, and for evening. It even has suggestions for men, so you can dress your growing boys.
3. Assess your wardrobe. When my mom was young she pulled all the clothes that she didn't like, didn't fit, etc., from her closet. That left her with just a few items. She was so depressed she put all the clothes back in the closet!! I have been there, and I bet you have too! If you can't bear to look at empty the closet, move those items to the side, and start building your wardrobe.
4. Consider your lifestyle. For years I needed professional clothing, and that is where my effort and money went. I really didn't have any casual wear. Now that I work predominately from home, I find I need to increase my casual wardrobe. I know it sound ridiculous to say that I have nothing to wear to hang out in my home, but it's true!
5. Buy the classics. While it can be fun to wear the latest and coolest styles, if you don't have a lot of money and time to replace your wardrobe with each fad, you need to stick with the basics. You can always trend up with accessories…jewelry, shoes, boots, scarves, etc. These are inexpensive and fun to buy. After all…they are going to fit! Save your time and money for items that will last many years.
6. Money is no object. The dress your best rules are the dress your best rules. It doesn't matter if you are shopping at the most expensive boutique in Manhattan, your local thrift store, or your girlfriend's closet. The rules still apply.
7. Make a list of what you need. Dress Your Best has a list of wardrobe basics and I have listed them below.
Stacy and Clinton's wardrobe must have's list:
A black pantsuit
A softer neutral suit with pants or skirt (gray, brown, khaki, or navy)
3 pairs of neutral trousers
3 winter-weight skirts (1 should be tweed) 
3 summer-weight skirts (1 should be tweed) 
3 cotton button-front shirts
3 blouses
2 sparkly tops
Leather jacket
Denim jacket
Trench coat
3 pairs of jeans (all hemmed to different lengths for flats, heels, and sandals) 
Black dress
Solid-color dress
Print or embellished dress
6 sweaters (3 neutral, 3 color, and vary necklines, crew, v-neck, and cardigan) 
3 blazers (1 summer weight, 1 three-season weight, 1 winter weight) 
¾ length wool coat
Watch with 2 bands (leather and link) 
Black bag
Brown bag
Color or print bag
Black heels
Brown heels
Color or print or embellished heels
Black boots
Brown boots
Black flats
Bags and Shoes
Of course you can't have too many bags or shoes. You may want more or less of an item depending on your clothing needs and preferences. My point here is that life is easier if you go to the store with a plan. There is nothing worse than spending money on clothes and still having nothing to wear when you get to your closet. It may be hard to find a piece or two from this list…but keep trying. I have been looking for a jean jacket that I like for several years now, and I am going to keep at it!
Stacy and Clinton have you covered with the dress your best basics here. Brown and black will allow you to switch up your neutrals as they go with everything.
Just remember to give some thought to color. Are you a Summer, Winter, Fall, or Spring …and which colors will you pull out to build your wardrobe? If your blouses are yellow, orange, and white, but you are a winter and should be in intense jewel tones like rich reds, purples, and blues, you are not going to look your best even though you have the correct pieces of clothing and the correct fit.
Having the right pieces in your closet decreases morning stress and gives you fabulous self-confidence. You are fabulous, and you have every right to feel fabulous and to dress your best!